Time for an update!
Levi Axel was born 4/28/10 at 4:10pm weighing 8 pounds, 11 ounces and was 21″ long.  Pictures?  Why of course!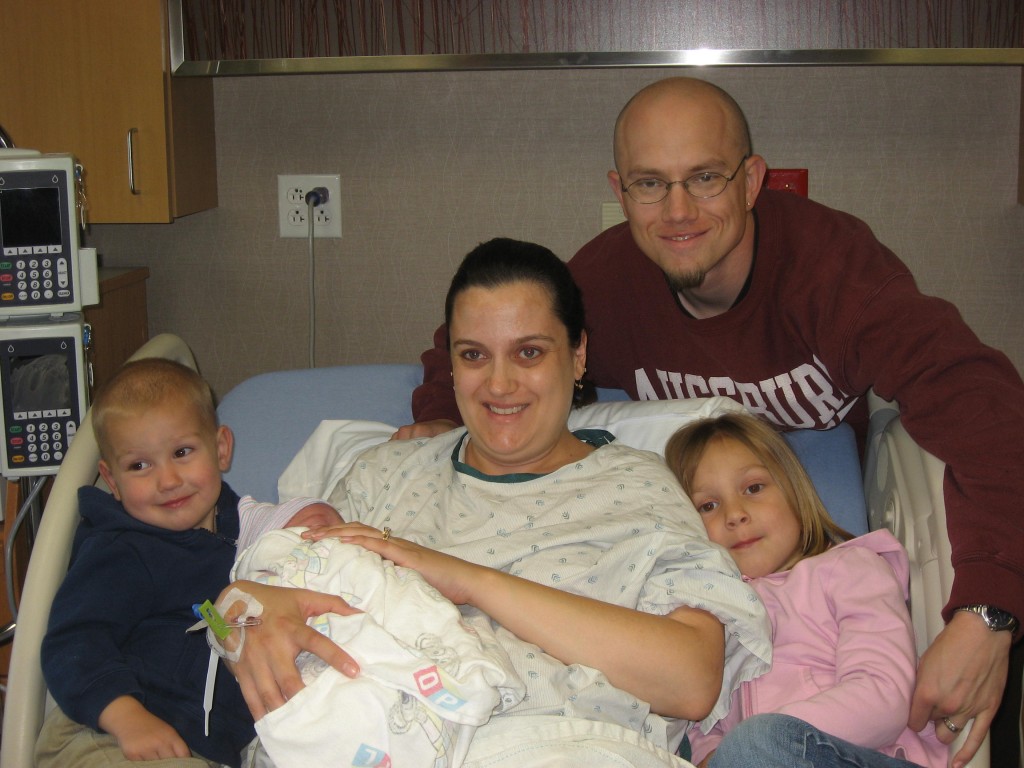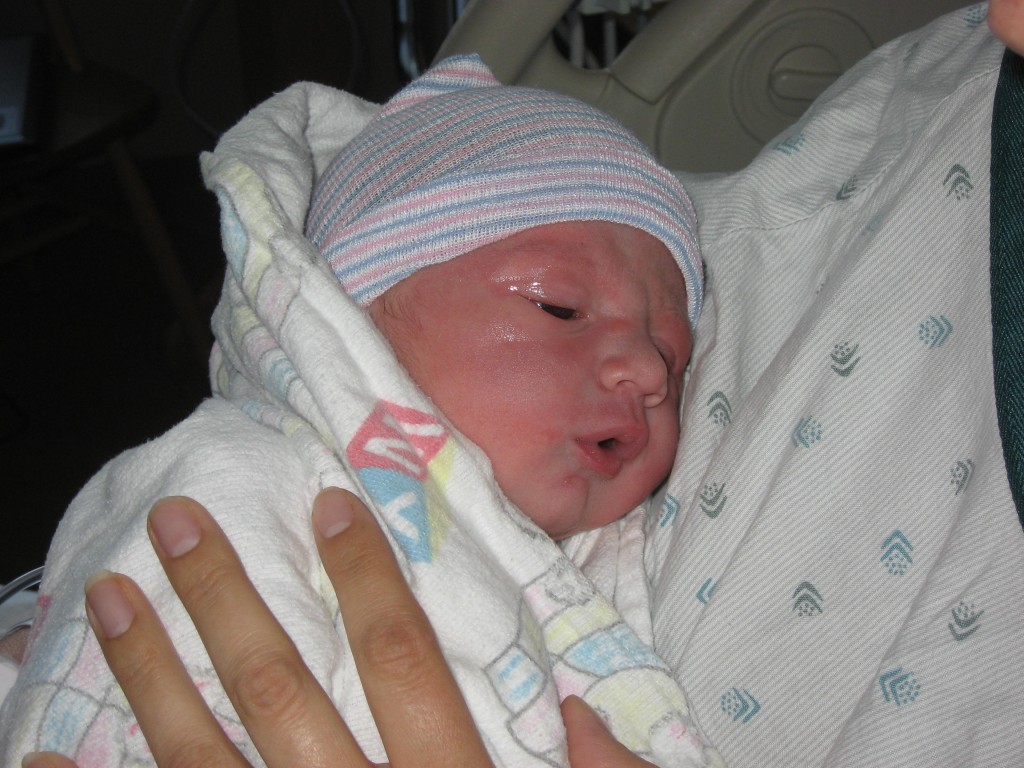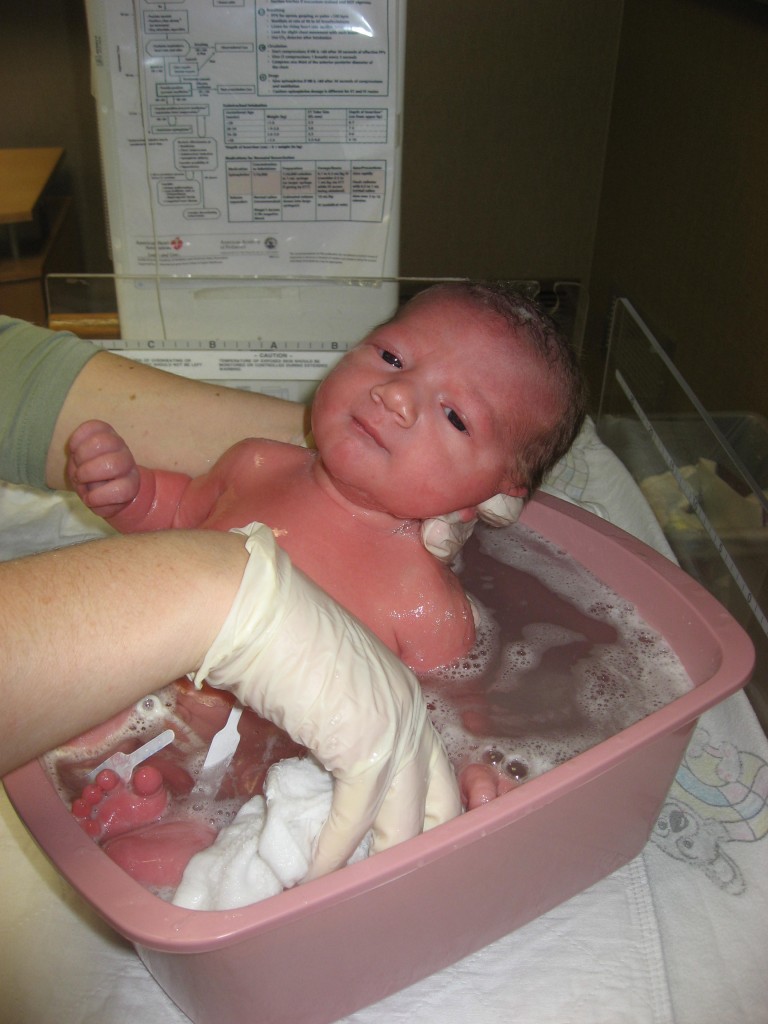 His birth experience was fantastic.  I got the epidural around noon yesterday and was ready to push by 2:30pm.  Dawn was across the hall delivering another baby so we waited our turn.  If I hadn't had the epidural and been resting comfortably then Midwife Carrie would have come upstairs from the clinic to deliver me.  I was fine though so we waited.  Around 3:30pm Dawn came in, checked me and found that I was complete and Levi was already making his way down.  About 3:40pm I started pushing.  It took a while for me to push him out considering he wasn't born until 4:19pm.  You'd think that would have gone faster the third time around.  Well, Levi decided to make one of the most difficult entrances he could.  First he was face up instead of face down, then he had the cord wrapped once around his neck (which did not have any adverse effects) plus he was presenting "military style" meaning his head was straight up instead of his chin tucked down by his neck and finally he had one arm up around his shoulder which his hand around his neck/chin area.  His shoulders and arm came out together!  Dawn commented that I should be very grateful I got that epidural because that would have been one hard and painful birth otherwise!  Stinker!
Within just a couple hours we had visitors (Gramme, Nana, Papa, Krystle, Pierce, and of course Annika and James).  At first when the kids got there they acted a little shyly.  It didn't take long though for them to both come over and give me a big hug and kiss but also give their new brother a bunch of love.  Annika couldn't leave him alone.  She is completely in love with him and had to touch him and look at this feet and stroke his face and kiss his forehead.  Wherever that baby was, Annika was.  James was interested in the baby and one time came over and gave him a hug and kiss unprompted so I know he adores him too.  But he was equally happy making the rounds getting love from everyone.  And he had to sit by me on the bed a lot and get lots of cuddles and snuggles and hugs and kisses.  I'm more worried about him adjusting than I am Annika.  I'll make sure that they both gets lots and lots of attention in the coming weeks.  Thank goodness Kris and I will both be home for a while.  That is such a big help!
We had a good first night.  Levi would wake to eat and then go right back to sleep.  The nurses sometimes came in at inopportune times (like when we're all sleeping) to do their thing but I got enough rest, not really rising until 9am this morning.  (Although my mommy senses were in overdrive and once I woke up because the baby down the hall was crying – mine was sleeping peacefully in his bassinet right next to me!)  We'll hang out here today and go home probably tomorrow morning.  And I'm sure we'll have more visitors today (Grandpa and Marcia, Dusty and Mel) and tomorrow (Gramme and Mathias).
I am so blessed!  And I am so in love with my family of five.  (Also, my husband was awesome yesterday, rubbing my back, my hand, getting me whatever I needed and gently prodding me to get the epidural when he could tell things were ramping up – he is the absolute best!)