Ever since last night at about 8:45pm, I've been saying to Annika "There's a hole in your mouth!"  That's because she lost one of her front teeth last night!  OK, she didn't exactly lose it.  I pulled it out and then we put it in her tooth pillow and put it under her pillow.  It was never lost.  Not lost, forcibly removed.  OK, not too forcibly as it was really loose and I was able to grip it with my fingers and pull it out.  But still, there is a hole in my daughter's mouth and it looks very odd to me!  I have to admit that it makes me a little sad too.  She's super excited of course and can't wait to get back to school next week to show all her friends.  To me though it's just another visual reminder that she's growing up so fast!  She'll never again have that little girl smile!  Here – see what I mean?
Right before I yanked her tooth out: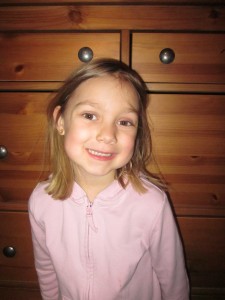 After her bath with her tooth gone and in her tooth pillow (which was mine when I was little!)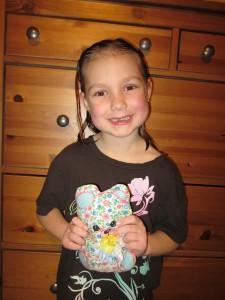 Her other front tooth is loose so we'll see how long until that one comes out too!
Last Sunday Grandpa Dan and Marcia stopped by for a visit.  They always bring a small bag of m&ms for the kids and this time even Levi got his own bag of m&ms!  He sat on Grandpa's lap and Grandpa fed him m&m's one by one.  Let's just say that Grandpa made a friend that day!  Then James decided he wanted to ride on Grandpa's leg like he always does and this time Levi got in the act too.  They were having so much fun that I took a video so I could share it and keep it forever!  Look!
Fun with Grandpa from Kristina Froyum on Vimeo.
This week is spring break for the kids.  Monday Annika went to Ryan and Erin's house for most of the day.  I think James was feeling a little left out but hopefully he had fun at home.  Annika sure had fun playing at the neighbor's.  She even ate lunch there and said that she had "orange lunch."  Kris asked what that was and Annika said it was mac 'n cheese with carrots and oranges.  All the foods were orange!  Well, until they had watermelon with it at least.  She then told us that the mac 'n cheese was even from a box!  That's a big deal because at home we always make mac 'n cheese from scratch and have stopped buying and eating it from a box.  The kids of course love the boxed kinds though so it was a treat for her to have that kind.  I asked her which one she liked better and she said "I can't tell you that."  Ha!  Already a politician!  She knows the homemade kind is healthier but that the boxed kind is also yummy.  Smart girl!  Tuesday Kris and the kids hung out at home.  Wednesday they all went to the Mall of America to play at LegoLand and walk around and look at new running shoes for Kris.  And today Annika and Kris spent the afternoon at Annika's friend from school, Sargam's house.  They're also our neighbors, living about a block and a half away but yet we never met them until we saw her at the bus stop on the first day of school!   This time James got to go with and although he may have been bugging the girls a bit, Annika said that she really liked having him there.  It was even an unprompted declaration of love and appreciation for James!  I think that made James feel good.
And now the house is quiet.  Annika and James are at Nana and Papa's house until Saturday celebrating the last bit of their spring break.  Levi is sleeping and I'm watching DVR'd American Idol.